Class of 1998 | Sports | Tug of War


After innumerable attempts at rescheduling the sporting calendar to satisfy the House Captains, House Masters and Sports Teachers, it was finally decided that the 1st tournament of the year [boys] was to be the tug-of-war. Last year, the tournament was not held due to lack of time, so the defending champions were declared on the basis of the tournament held in 1995, the winners then being Streeton under the captaincy of Khurram Sadat.

The preparations for the tug-of-war tournament were thorough, with the Frere and Napier teams employing ex-grammarians to coach them and perfect their respective heaving techniques. Napier house was helped by Khaqan Sadullah [Class of '96] and Obaid Khwaja [Class of '94] coached Frere. Streeton house had no coach, but they were untiringly motivated by Hasib Qadir [SY].

The first match took place between Frere and Napier. The toss, as usual was of vital importance, as both teams were looking to take the school-gate side to gain an advantage from the sloping field. Daniyal Muzzafar [Frere captain] won the toss, and with the entire school watching, the tournament began. Frere exploited Napier's lack of rhythm and gained full advantage of the slope to win the first pull in 40 seconds. Napier, under the captaincy of Ahsen Merchant, came back strongly in a tightly contested second pull to win it in 85 seconds.

In the third pull, a fatigued Napier team could not overcome the slope and a technically superior Frere side and lost the pull in 8 seconds.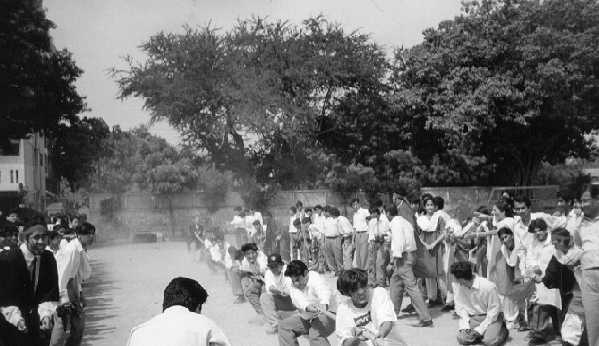 The second match placed an eager Streeton side led by Zulfiqar Ali Shah against Napier, who were looking to come back strongly after their loss to Frere. Streeton lost the toss, but defied all odds [and a tough Napier team] to win the first pull in 113 gut-wrenching seconds. With a large crowd of supporters, the Streeton team completed the victory with a 40 second win in the second pull.

The final match pitted the two winners against Napier, Frere and Streeton face to face to decide the winner of the tug-of-war tournament. The two teams seemed evenly matched, so winning the toss was crucial. Streeton won the toss and, backed by numerous Streetonites [and a few Napierites], demolished Frere in a mere 7 seconds. Streeton looked invincible as they finished off Frere from the up-slope end in 47 seconds.

Streeton were declared winners of the tournament after 2 wins, with Frere and Napier finishing second and third respectively.

Notable mentions [besides the 3 captains of course], of the tournament were: Shamoun Ilyas and Mohsin Siddiqui [VC] for Frere, Shayan Hazir [VC] and Omar Ahmed for Napier and Owais Balagamwala [X] and Atif Malik [VC] for Streeton.


- Ayaz Abdulla