Events | 150th Anniversary Dinner
"Be True To Your School"

November 1997 saw KGS entering its 150th year. The Second Years took the initiative on leading a student celebration of the glorious event. Mrs. Ahsanuddin's idea of organizing a dinner and dance won admiring approvals, and Mariam Mukaty, Suroor Lotia and Saira Mazhar immediately began organizing a 150th Anniversary Committee. "Be True to your School" was adopted as the theme and it served splendidly in arousing enthusiasm for this eagerly awaited evening. Although formal approval was granted late, Mariam, Suroor and Saira worked industriously to make this event a truly memorable one.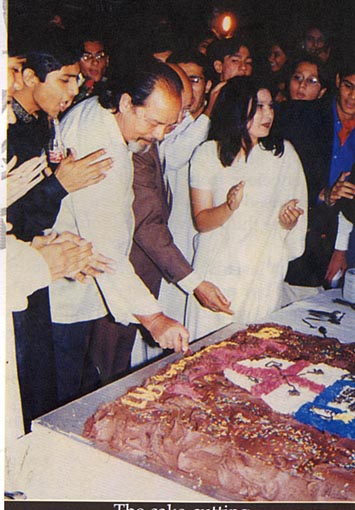 Mariam, Suroor and Saira, along with Mr. Khalilulah, won laurels of admiration for their tireless efforts, and deserve praise for their selfless devotion. The caterers, music, decorations and seating etc. were organized by the 150th Anniversary Committee, consisting largely of Second Year students. Trips to Bohri Bazar became sources of great excitement as the students enjoyed the thought of leaving their mark on the school in a tangible way.

The cool balmy night of November 22nd saw a complete transformation; students arrived, glamorously attired; the bare shed was transformed into a colourful ballroom. The music hall was illuminated with candles.

Those who passed the coolers into the backyard witnessed a splendid sight, augmented by the array of colourful little flags that had been strung across the yard. On the roof, wire-mesh held large balloons filled with confetti, which were later released by the Headboy and Headgirl, Adnan Ozair and Huma Yusuf.

Well-selected, popular numbers ensured that the floor remained packed throughout the night, pausing only for the cutting of the cake and for the dinner. The cake, which was beautifully adorned with the school logo in the centre, was cut amidst the great cheering of the large crowd that surrounded the cake in the throwball court.

After dinner and a few more dances, the younger members of the school left, leaving behind the Second Years. As the evening neared its end, balloons were released covering the floor with gigantic floating bubbles. Soon, the last dance marked the end of the evening, and everyone mingled in the shed for a while before being ushered out by the members of staff and the 150th Anniversary Committee.


[Some of] 150th Anniversary Committee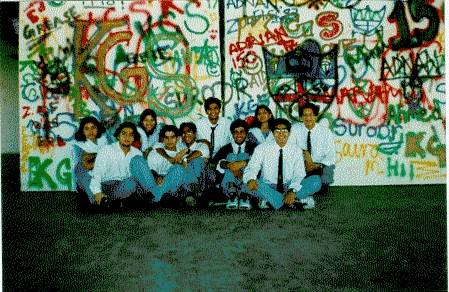 The 150th anniversary dinner and dance was a very well organized event, despite the short notice and the limited budget that was given to the organizers. It was enjoyed by both the students and the teachers, and many left wondering if they would be lucky enough to see KGS enter its 200th year.

- Akbar Ahmed